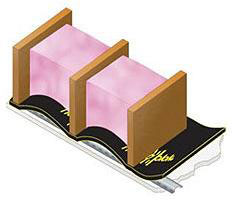 QuietFibre® or a similar type of dense acoustic open cell cavity stone wool / fibre should be fitted into all cavities where appropriate prior to the fitting of Acoustiblok Insulation Membrane. This will offer a thermal insulation value at the cavity but critically will prevent resonance within the cavity, which if left unfilled could lead to a potential amplification of any sound wave. Acoustical sealant would ideally be applied along the length of all joists prior to the installation of Acoustiblok 3mm Isolation Membrane being gently pulled across the joists and secured in way of mechanical fixings to hold in place. All overlaps, joins and perimeters of Acoustiblok 3mm Isolation Membrane should be sealed with acoustic silicone sealant and tape jointed (please see accessories) to ensure an air tight seal to the entire area.
As an option and if tolerances allow, a resilient bar / channel or cross batten can be fitted perpendicular to the joist at this stage which will help in supporting the  Acoustiblok Membrane. The use of a resilient channel is quite common as it will also offer a platform onto which to mechanically fix the finishing board.
The chosen finishing board system of either a single / double staggered board can then be installed to the ceiling, tape jointed and finished as a standard process.
If you require detailed technical data or installation tips, please see our Technical Data section.